Album Takes Jostyn in New Direction
"On Music" by Lucky Clark
Friday, Sep 17, 1999
Central Maine Newspapers
To say that Mindy Jostyn is well-travelled musically is to make an understatement. This young lady has played with some of the best known names in popular music. She has toured with Billy Joel, Joe Jackson, Donald Fagen and Walter Becker's [Steel Dan] The New York Rock n' Soul Review, and The Hooters. In 1994, she was a member of John Mellencamp's band. Other tour and album credits include Andreas Vollenweider, Cyndi Lauper, Jon Bon Jovi, Pat Benetaur, Laura Nyro and Carly Simon.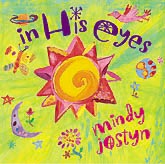 in His eyes
Top that off with three solo albums, the latest of which is the self-released gem, "in His eyes," and you have a career that is the envy of any musician. She also is a multi-instrumentalist, covering acoustic guitar, violin, accordian, piano and harmonica.
Jostyn is also a popular draw at Slates in Hallowell where she'll be appearing this Monday. In a recent telephone interview from her home in Massachusetts, Jostyn expressed genuine exuberance about the Hallowell eatery.
"This is my third time there," she says, "and I love it. It's been a great venue."
After her successful solo releases, "Five Miles from Hope" and "Cedar Lane," on Palmetto Records, and now "in His eyes," on Moonboy Records, it was hard for Jostyn to think abut giving up the "sideman" side of her career. In fact , she was downright reluctant, especially when she received calls from Jon Bon Jovi and Andreas Vollenweider.
"I hadn't spoken to (Vollenweider) in about two years and it was just good to hear from him again and to hear that he was working on a new record and wanted me to come and play on it. I couldn't refuse."
"Jon Bon Jovi usually calls me about twice a year to do something with him, and that works out real well with having a baby because I'm not prepared to go out and do six-month tours like I used to do!"
In fact, this will be her first time plauing in Maine since her child Isaiah, Zaha for short, was born.
Her latest album, the aforementioned "in His eyes," which is a decidedly spiritual release, doesn't preach but does empower the listener with quiet faith, gentle strength and moving messages. It is a refreshing musical tour-de-force that uplifts the soul as it reaffirms this talented young lady's versatility. One wonders if she will be perfoming any of the material when she hit's Slates.
"I generally manage to work in two or three songs," Jostyn says. "I just want to be careful about people who are resistant to-- what shall I say-- anything that they might consider religious."
The singer adds that as she and her husband, Jacob Brackman, were writing the lyrics for this record, it was very important to them to try and make sure that it was non-denominational and that there was nothing in it that couldn't speak to anybody, whatever religion or non-religion-- they were.
"I certainly hope that it has done that, but at the same time, unless I'm being invited to do a concert where the people who are hiring me want the emphasis on the material from that record, I'm careful not to lean too heavily on that. It's a constant dilemma for me-- to just kind of try and walk the line between the spiritual and the secular and to have them work in tandem and not feel like I'm of two minds."