---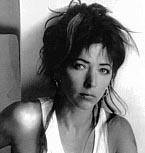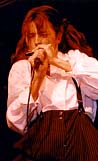 "She's an absolute explosion of talent." -- The Albany Daily Gazette

---
"Mindy Jostyn is among the most exciting songwriters to emerge in some time; her ballads reveal a poet's aim for life's revealing little moments. Everything is delivered with sparkling musicality and an emotional voice." -- The Boston Globe
---
"Jostyn's gifts as a writer of dreamy musings, topical essays, and torchy ballads point to a very promising future." -- The Washington Post

---
"Applying her clear, confident soprano and instrumental prowess to a variety of styles including folk, country, pop and blues, Jostyn proves she's ready to step out of her backup role and into the spotlight." -- The Boston Herald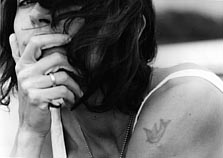 ---
"Mindy Jostyn writes songs ranging from hilarious to poignant, sings them with subtle conviction and plays a mean harmonica." -- Playboy
---
"The unsuspecting crowd was blown away by a human bonfire named Mindy Jostyn singing large, moving beautifully, and plaving brilliantly. Her songs range from torchy to drop dead funny." -- Metroland
---
"Once again, starlight seemed to stream from Club Passim Friday night. Passers-by sensed something was up, crouching down more than usual to peek through the windows of the basement club and see what all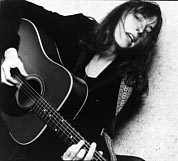 the fuss was about. Club manager and emcee Julie Rioux evoked the long tradition of star-making at Passim, of how Nanci Griffith, Suzanne Vega, Shawn Colvin, and many others had seen their careers ignite there. The energy crackling in the air before Mindy Jostyn played a note made it clear that this crowd, packed to the rafters, came not just to cheer the hot new songwriter but to help anoint her the official Next Big Thing. Jostyn did not disappoint. Years of playing fiddle and harmonica behind Carly Simon, John Mellencamp, and Billy Joel have crisply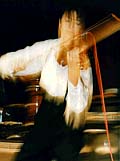 honed her dazzling musicianship. But she is almost militant about not taking herself seriously. Her very funny, sharply satirical persona is that of affluent white suburban girl desperately seeking angst. As such, she can smartly kid herself, today's dour songwriters, and our vapid pop culture.
"You're not supposed to say you sing the blues if you're a white girl from the suburbs," she said, mouth all pouty. "so this is a complaining song." But her blues harp was sizzling, her fiddle rhythmically riveting, particularly on a playfully sexy, grandly over-the-top cover of Prince's "Kiss."
Dressed like she'd just come from a very trendy bait shop, she sang hilariously about the tension of a romance going too smoothly, of her frustrated attempts at seedy rebellion in her suburban home on "Cedar Lane." She includes herself in what she's lampooning, so she never seems sneering or self-righteous. She sang a snippy anti-ode to "Other Guy's Girls" and a mock-protest to our greedy culture, with its deliciously insincere refrain, "What's so great about power, sex, and money?"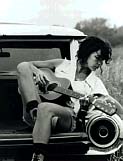 Her few serious songs were spellbinding, including a tense update of the Cain and Abel story and a softly devastating cover of Simon's "That's The Way I've Always Heard It Should Be," which brought out the ominous uncertainty of the verses, written by Jostyn's husband, Jacob Brackman. With her crisp musicality, welcome wit, contagious melodies - and connections - the question seemed less if she's going to be a star than what's taking so long?" -- The Boston Globe, June 2, 1997
---
"Edgartown - After a night of sipping champagne, hugging Carly Simon, and offering birthday toasts to a White House staffer, the president got a late start yesterday.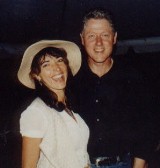 Just before noon, Clinton came jogging down the path from his Oyster Pond vacation home. Before he turned onto the bicycle path, he was asked about the bash at the Hot Tin Roof nightclub he and first lady Hillary Rodham Clinton attended the night before. "It was really nice," Clinton said.
Other partygoers say it was even better, with Carly Simon (sporting a new naval ring) singing "Anticipation" and musician Mindy Jostyn stealing the show with fiddling and harmonica playing, along with her rendition of Patsy Cline's classic "Walkin' after Midnight."
While Mrs. Clinton toasted birthday girl Kelly Craighead, some of the more than 200 guests got a kick out of photographing Clinton holding his champagne glass and the one belonging to the first lady." -- The Boston Globe, August 1997, By Ellen O'Brien
---
"She writes rock and roll with all the various styles that have ever worked their way into rock ... works straight from the heart and soul every note of the way." -- Music Review Quarterly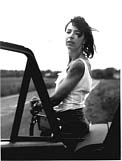 ---
"Her debut CD is a kick-butt album that occupies the narrow interstice where country, pop, blues, rock and folk come together. And what Jostyn does with a fiddle and harmonica borders on assault." -- The Valley Advocate
---
"She barely had both feet on the stage when you could feel 'the magic.' I've never seen anyone light up a room as quickly as Mindy Jostyn." -- Two River Times